CLIVE KING
(George Harris)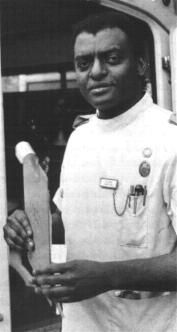 Clive was senior staff nurse at Holby Casualty in the first series. Clive was a family man, with two sons. He and Charlie often had arguments as Clive was sometimes reluctant to accept Charlie's authority.
At first he had a problem with drink; Kuba tried to help by pouring his drink away and replacing it with tea. Clive confessed his problem to Megan Roach, saying it had started to help him sleep and grown from there. He managed to stop drinking.
When the night shift was closed at the end of series 1, Clive moved jobs and never returned to Holby A&E.