HOLLY MILES
(Sandra Huggett)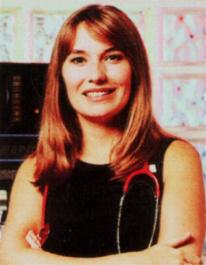 SHO Holly Miles first appeared in Casualty at the beginning of series 14. She had previously worked in paediatrics, and when a new resuscitation room was built, Holly organised a sponsored parachute jump to raise money to decorate the old room, now used as paediatric resusc.
When SPR Dr. Patrick Spiller started work at Holby A&E we found out that he and Holly had been an item when she was a student - Holly had dumped him. Patrick asked Holly out but she turned him down, telling him she had a boyfriend; Patrick soon realised she was making it up. Patrick was persistent but Holly kept turning him down, saying he was too clinically minded.
Holly cared for her patients, and often got a bit too involved. When Gemma Foster brought in her little brother Jake, Holly realised that their mother Joanne didn't look after them properly, as she drank too much. Holly discovered that they were her neighbours and started keeping an eye on them. She called Social Services, but the only effect this had was to make Joanne forbid Gemma to speak to Holly. However, in the middle of one night, Gemma came to Holly's door asking for help with Zoe. Holly helped her, but Joanne came back. She accused Holly of turning Gemma against her; Gemma, upset, ran out of the house, followed by Holly and Joanne. Holly caught up with Gemma and put her arms around her; Joanne, shouting at Holly to get off her, struggled with her and ended up pushing both Holly and Gemma into the path of an oncoming car. Holly got up to help Gemma; Joanne, fetching Jake and Zoe, walked away. Gemma was taken to A&E. Holly realised she'd made a mistake getting involved. The police were called. Joanne arrived outside A&E and sent in Jake to fetch Holly. She begged Holly to let her see Gemma, but as she went in, the police saw them and arrested Joanne. Holly watched as she was taken away from her children, Jake and Gemma crying out for their mother.
Holly had turned to Patrick for advice over the Fosters, and it was Patrick who comforted her when things were at their worst. He hugged her and told her she was the best SHO in the room. (She was the only SHO in the room.) Patrick told her not to beat herself up over this, saying that there are a lot more serious things wrong with her that she needs to sort out. Holly said, "I really do hate you, you know," and let him hug her again. Patrick replied, "I know, and it means a lot to me."
At the beginning of series 15, Holly, out for dinner with a journalist, let it slip that one of the nurses in the department was HIV positive. Despite Holly's best efforts to persuade the journalist not to publish, the story got into the national press, and Holly felt extremely guilty when this led to Adam's resignation. Adam forgave her, however.
Patrick and Dan Robinson were soon vying for Holly's attention, and when Holly started receiving anonymous gifts she at first assumed it was Patrick, but he denied this. The gifts became more frequent, however, and Holly started to get the feeling that someone had been in her house at night. Then she started getting anonymous phone calls, and soon afterwards she arrived home to find that someone had been in, leaving decorations and presents. Dan and Patrick offered their support. When Holly received a phone call at work, with the caller describing what she was wearing, she panicked. Patrick offered her a lift home, but found his tyres had been slashed. Anaesthetist Tom Harvey offered her a lift instead. He invited her back to his flat for a drink, and Holly agreed, but once there realised that something wasn't quite right. Dan, having turned detective and discovered that it was Tom who was stalking Holly, turned up at the flat, but subsequently collapsed. Holly discovered that Tom had a room full of photos of her, asleep, and realised who her stalker was. After a struggle, she knocked Tom on the head with an ornament and called for help. Tom was arrested.
Patrick didn't handle the situation well - for him it was made worse by the fact that it had been Dan who had come to Holly's rescue. He tried to explain this to Holly, but she didn't accept it. At the end of the series Ed, an old colleague of Patrick and Holly's, turned up in the department. It turned out that Holly had left Ed for Patrick. Ed, a medical student at the time, had been thrown off the course for taking drugs and Holly had always believed that Patrick had been behind this, but Patrick now told her that it hadn't been down to him. He said she was always trying to change him, and he'd never be good enough for her, but Holly told him he was good enough, and they agreed to go for a drink after the shift. However, that afternoon Holly went out to her car, only to find Tom there. He grabbed her, knocked her out, and dragged her to a closed ward of the hospital. He forced her to put on a dress and dance with him; Holly was too scared to do anything but agree. Once on the dance floor, however, she managed to free herself long enough to smash a window and call for help. Tom grabbed her back, and injected her with anaesthetic. By the time Patrick arrived, she had stopped breathing. Patrick started mouth-to-mouth, and Holly came round and clung to him.