Series 16 Episode 28:

PAST, PRESENT, FUTURE

Written by Paul Cornell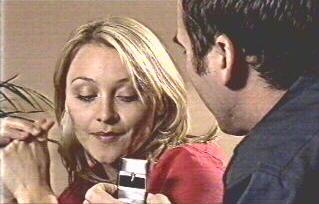 Patrick is off to London for two days, to go house-hunting. Lara isn't too happy at the thought of him being there, talking about him meeting a rich woman. Patrick says he won't – he'll have his own Aussie woman with him. He takes out a ring – he has had the stone he showed her last week set – and shows it to her. She says she can't leave Holby because of her job. She kisses him, and saying she'll see him when he gets back, then leaves for work. At work, she tells Anna, saying she can't give up her job for him. Anna replies that he's the love of Lara's life. Later she calls Patrick, who is driving along, and doesn't answer.
A man is driving along; he is falling asleep and some of his papers are flying out of the open window. He falls asleep at the wheel and crashes his car into some cones, falling onto his steering wheel. The horn wakes him, and dazed, he gets out of the car to retrieve his papers, wandering in the middle of the road. A minibus full of fighting school kids is approaching. The driver, distracted by the fighting, doesn't see the man until the last minute. Trying to avoid him, he ends up skidding, and Patrick, who is following, does the same. Patrick's car goes into a bush, but he isn't hurt and manages to get out. His phone is smashed, however. He hears screams and turns to see the minibus at the side of the road, badly damaged. He goes to help. One of the boys tells him they were on their way back from a trip. The driver and one of the boys are unconscious.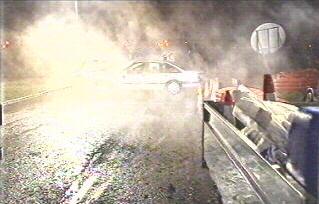 As Patrick is assessing the situation, a lorry is approaching the scene. It collides with the minibus, knocking it down the embankment. The lorry driver manages to get out, apparently unharmed. There is shouting coming from the back of the lorry. He tries to open the door but it is jammed, and he walks away. The first car driver is still in the middle of the road, and a tanker swerves to avoid him, and crashes. It is being followed by cars and there is soon a huge pile-up in the road. The emergency services are called, and Comfort and Fin, on motorbikes, get there first, only to learn that no-one else can get through the blockage yet. They set to work, and discover that the tanker is leaking petrol everywhere. There is nothing they can do to stop it, and they go to see to the casualties. Soon, however, a fire breaks out in a nearby car. Realising the danger, Fin gets into the tanker's cab, starts it up, and drives away, leaving a trail of petrol behind. Comfort shovels sand onto the trail. The petrol trail ignites, and the flames shoot along after Fin, but stop at the sand, to Comfort's relief. Fin gets out as the fire crew arrive. The watch commander says he isn't going to have a go at him and then commend him for his bravery. Fin turns to Comfort, hoping for a hug, but she walks past him. Lara and Anna arrive at the scene with the paramedics, and Lara realises Patrick was involved. As Lara is working, Josh shows her Patrick's wallet which he has found, saying he's obviously up and about. Nikki goes to treat the driver of the first lorry, who eventually confesses that it's full of illegal immigrants. They are freed from the refrigerated lorry, but Nikki is shocked that they paid £6000 each to be brought to England like that.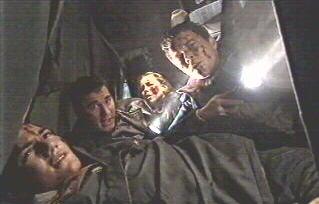 In the minibus, which is now lying on its side, Patrick is trapped by his legs but seems to be unhurt, apart from a few scratches. Two of the boys have been injured in the second crash. One of the girls, Louise, is hanging, strapped into a seat, and Patrick manages to help lower her. Finding that the school had put a ban on mobile phones, Patrick gets everyone to shout for help, but no-one can hear them. He asks Joe, who can move, to check on the two unconscious casualties. Joe is reluctant, as he is scared, but Patrick convinces him. He finds that their friend Anthony is breathing and has a pulse, and his pupils are reacting, but their teacher seems to be dead. As Patrick instructs Joe on how to help the others, Russell keeps picking on Joe, saying he's queer. Patrick straps up the leg of one of the girls, Kylie, and asks her to crawl out and fetch help. Soon they see flames appearing round the minibus, and Patrick tells Joe and Louise, who both can move, to get out now. Louise goes, but Joe says if he goes there'll be no-one to help. Russell says Joe should be the last one to get out, as he and the rest are more important. Joe starts to say it's not worth it. Patrick tells Joe he used to be picked on at school, but he and Joe are going to save them all.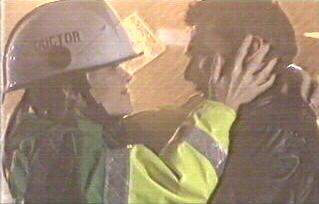 Eventually, help arrives, and the fire crew set to work to free the injured boys. Lara turns up and kisses him, then he urges her to help the others, getting the patients out first. She tells him she loves him, and he says he's got something to ask her afterwards. She goes to help the others. The crew free the boys, then return to free Patrick. The flames are getting closer, however, and he eventually tells them to go, and to tell Lara he knows she'd have said yes the next time. Outside, Lara watches anxiously, hearing the firemen being told to come out. However, they come out with Patrick, and Lara runs to hug him. Behind them, the minibus blows up, but they are safe. As they walk away, Anna tells Patrick he should get himself checked out, but he says he's checked himself out. They walk past the kids, who tell Lara how great Patrick was. Joe says he's going to be a doctor, and Patrick tells him to go for it.
Comfort and Fin discuss Lara and Patrick. Comfort says it was as if Lara wished it was her in the minibus instead of him. Fin says that's a good definition of loving someone. She says sorry for earlier, and says he can have his hug now if he wants it.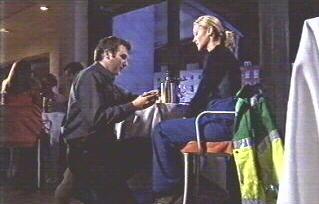 Patrick and Lara go for a meal. Lara says she's coming with him to London – today made her sort out her priorities and she wants to be where he is. Patrick says she doesn't have to – the RTA made him think he's not meant to got to London, he's meant to be in Holby with her. He says he'll find another consultant's post. He tells her she was the only reason he had to stay alive. He takes out the ring, and gets down on one knee and proposes once again. Lara says yes. He tries to put the ring on but it's too small. Patrick apologises but Lara laughs. He tells her he loves her, and she tells him she loves him too. They kiss. She says she hates the word fiancée, and he tells her just to say she's his girl – she'll always be his girl. Lara goes to the ladies', and returns to find Patrick slumped against the table. She tries to wake him, but realises he isn't just asleep. He collapses onto the floor. Lara yells to someone to call an ambulance, and starts doing mouth-to-mouth. He is taken to A&E, and Max says he must have cracked his head in the crash – he has an intracranial bleed, possibly an extradural haematoma. He tells Lara he'll take it from here. Lara doesn't want to leave Patrick, but he insists. Lara walks away, and stands clutching the ring.