Series 17 Episode 15:
SOME COMFORT, NO JOY AND A BIT TOO MUCH LOVE
Written by David Joss Buckley
A disillusioned Colette turns to Simon when Josh fails to turn up for the Christmas party. Josh meanwhile is trapped in a car with a mentally unstable man who has lost his wife; the car loses control and crashes into the ambulance shelter outside A&E. Josh escapes just before the car explodes.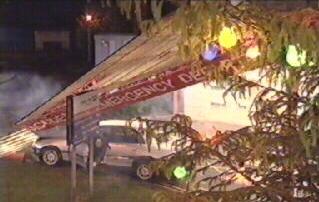 Episode first broadcast Saturday 21st December 2002

Additional Cast
| | | |
| --- | --- | --- |
| Michael Jacobs | | Des McAleer |
| Beth Harper | | Lynda Rooke |
| Emma | | Seeta Indrani |
| Lawrence | | Dominic Power |
| Avril | | Rosei Alvarez |
| Des Lord | | Simeon Andrews |
| Wendy Lord | | Rosie Ede |
| Barry | | Richard Rycroft |
| Signor Panucci | | Sidney Kean |
| Maria Panucci | | Miriam Brown |
| Farmer Bernie Walsh | | Roger Heathcott |
| Fi Palmer | | Clare Boland |
| Dr Robert Hammond | | Burt Caesar |
| Terry Hollingsworth | | Liam Noble |