Series 17 Episode 18:
COLLISION COURSE
Written by Paul Cornell
Harry is angry when a young girl is brought in after an infection following a private breast enhancement operation. Anna gets a shock when the new PRHO turns out to be Merlin, the man she met last week. Colette leaves Josh and moves in with Colette. Jack agrees to drive the getaway vehicle for Eddie's robbery, but things go wrong and Jack ends up crashing the car. Eddie drags an unconscious Jack from the car, but leaves him lying there as he takes the money and runs...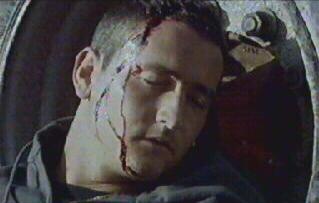 Episode first broadcast Saturday 11th January 2002

Additional Cast
| | | |
| --- | --- | --- |
| Merlin | | Orlando Seale |
| Eddie Vincent | | Philip Martin Brown |
| Jane Winter | | N'Deaye Baa-Clements |
| Doreen | | Naomi Taylor |
| Henry Reeve-Jones | | David Robb |
| Colin Frampton | | Ben Fox |
| Marion Frampton | | Sally Mates |
| Graeme Crampton | | Richard Derrington |
| Billy | | Peter Massey |
| Jimmy | | Abrahim Jarman |
| Vicky | | Sally Ann Burrett |
| Joe | | Barrett Robertson |
| Mr Sinclair | | Brian Behan |
| Gloria Williams | | Sioned Isaac |
| Dean Williams | | Dafydd Emyr |
| Miss Collins | | Abigail Hart |
| Esme | | Ruth Posner |
| Blake | | Jonathan Penton |
| Jason | | Matt Acheson |