Series 8 Episode 24:

HIDDEN AGENDAS

Written by Andrew Holden

It's Charlie's 40th birthday and he marches into work with the intention of resigning. The business with Repton lying about the two Grade E nurses was the final straw. He writes a letter of resignation, leaves it on his desk and walks out of his office. Then he turns around, goes back into his office and rips it up. He says he's sick and tired of lying to patients and running a grossly understaffed department. Mike tells him that Holby needs him and they have a big arguement. Charlie tells him he's sick to death of it all and that he can't remember why he opted for a career in nursing in the first place. Mary asks Ash what Charlie's doing and Ash replies "He's pressing the self destruct button. You'll get used to it, it's something he does every year". Charlie goes up to Jane's office and Jane tells him she's "worried about him". Charlie asks "what are you doing tonight ?". Jane asks "why ?" and he replies "because I like you a lot". Charlie arranges to go home with Jane at the end of shift. She also informs him that there may be room to compromise with Repton. This news pleases him but he still seems unsure as to his future in nursing.
A blind man called Michael (played by Patterson Joseph, who later played Mark Grace) and his blind fiance are talking outside on a balcony when the woman falls. On admittance to Holby she is dumbfounded at the fact she can see again. She tells Ash that she can see him and Ash, in his excitement, alerts Mike and Charlie. It turns out that she went blind when she was 6 years old through hysteria. Michael hears of the news and is very wary as to what she will think about him now she can see him but she thinks he's beautiful.
Meanwhile a suicidal man called John is interrupted in the middle of an attempt to shoot himself when a young woman who lives in the flat next to his is ill with a drug overdose. She is a junkie. She says owes someone £2400 so the man thinks 'what the hell I'm not going to spend it' and writes her out a cheque for that amount.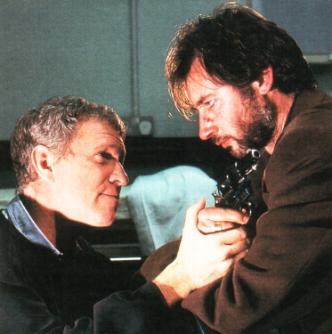 She says she'll only spend it on more drugs but he doesn't seem to care. Then she goes back home and he remains in his cubicle. He takes the gun out of his pocket and points it at his face. Mary sees what the man is doing and alerts Charlie, who promply clears the building. Then he ventures into the cubicle and memories of his shooting by schizophrenic gunman James Lawrence in the last episode of series 5 come flooding back. This time, though, the man is only interesting in hurting himself and Charlie persuades him to give the gun to him. Ash congratulates him to which Charlie replies "I'm just doing my job" and it seems that he will remain at Holby A&E after all.

Episode first broadcast Saturday 26th February 1994

Written by Christopher Watson