TINA SEABROOK
(Claire Goose)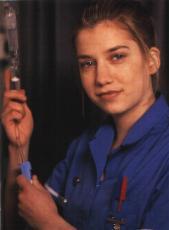 Tina Seabrook first appeared in Casualty at the beginning of series 12. She became a nurse against her parents' wishes, and was not speaking to them then. One day she tried to comfort a patient whose wife had just had an accident leaving her disabled, but at the end of the shift he cornered her and raped her. Tina could not tell anyone for a couple of weeks, but she then confided in Eve Montgomery, who she had previously hated. With the support of her friends, Tina recovered, and at the end of the series she moved house to share with Sam Colloby and Sunny Sunderland.
Tina's parents turned up at the end of the series, and we found out that the reason they had fallen out with Tina was that they wanted her to run the family business. Her father told her he was dying of cancer. Her parents eventually realised that nursing was Tina's vocation, and they made their peace with her.
By series 13 the man who raped her had been put away and Tina was fed up of clearing up after Sunny and Sam. She decided to move out and share a flat with Chloe Hill. Tina started a relationship with Sean Maddox, but whilst she was on holiday Sean and Chloe slept together. Tina didn't know but later got fed up with Sean ignoring her and called it off. Later things started again and Sean asked her to move in with him. In the last episode of the series she agreed but Chloe was upset when she found out. Tina was puzzled at Chloe's behaviour and asked what was wrong. Chloe told her she was pregnant by Sean. Tina called her a bitch and walked away.
At the beginning of series 14 Tina wouldn't talk to either Chloe or Sean, and went round slagging off Chloe at every opportunity. She was also upset by the departures of Sam and Sunny. Duffy, hearing Tina having a go at Tina, said she should show Chloe more sympathy and told her that Chloe was going to have an abortion after the shift. Tina offered Chloe a lift to the clinic. She told her she was fed up with being angry all the time - and missed the gossip. They were friends once more. Tina also made her peace with Sean, but didn't want to be any more than friends.
During the heat of the moment, Tina kissed Max Gallagher when they were taking part in a sponsored parachute jump. Passion in the hospital lift on Christmas day set the relationship on track, and despite arguments when Tina found out about Max's fling with Duffy, things were going well...until Sean found out. He insulted Max and smashed his car window. Soon afterwards, Sean was thinking of resigning, asking for a reason to stay. Tina said she wanted him to stay. They talked, and decided to give things another go. Tina wanted to tell Max before going any further, but when Max's son Frank died she couldn't tell him - especially after Max asked her to marry him, although she turned him down. Sean, thinking that Tina was never going to leave Max, decided to leave for Australia. Tina chased him to the station and asked him to marry her just before his train left. Soon afterwards she decided to leave Holby and go to Australia to find Sean. Whilst trying to find him she was left alone in the bush and collapsed in the heat, but Sean found her. He asked her to marry him; Tina said yes. They are now starting a new life together in Australia.