TONY VINCENT
(Lee Warburton)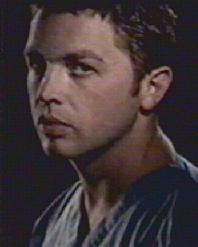 Tony was persuaded by his younger brother Jack to apply for the security guard post in A&E. He got the job, and seemed to be enjoying it. When the police, trying to find out about Chloe and Jason, pointed out that he had a criminal record, Tony confessed to Anna that he'd done time after getting involved in a fight when a mate was the victim of some queer-bashing. He knew his job would be at risk if he didn't show them the security tape giving evidence against Chloe, but managed to keep the tape to himself for a while, though he told them that Chloe was seeing Jason. Eventually, scared of losing his job, he had to hand the tape over, saying he'd just found it.
When Jack was diagnosed with testicular cancer, Tony had to convince him to get treatment. He told Jack he was being selfish, explaining that their mother, who died when Jack was small, had died of cancer, not in an accident as Jack had been told - they had wanted to protect him. He managed to convince Jack to admit he had cancer, and to phone the consultant to say he'd changed his mind and would have the operation. Tony supported Jack throughout everything.
Later in the series, Tony thought about applying for the Emergency Department Assistant post. He filled in the application form and showed it to Anna, but decided he wasn't going to give it to Charlie, as he had declared his criminal record on it, and he thought it will stand in his way. He threw the form away. Later, however, Charlie told Tony he was accepting his application for the EDA post - Anna had retieved the form and given it to Charlie. Tony asked about his criminal record, but Charlie said that as it was more than seven years ago it wouldn't be a problem. Tony got the job.
Tony, who was openly gay, thought Dillon might be a closet gay, and started hinting at this. Dillon got fed up with this and confronted Tony. He denied that he was gay, saying Tony obviously wanted him to be, as he fancied him. Tony denied this, but wasn't too convincing. In series 17, however, Tony met midwife Ben Saunders at a party, and after Ben was badly injured in a fire, they got together.
Tony had a shock in series 17 when his father Eddie turned up in A&E one day, accompanying one of the bouncers who worked for him. Tony didn't want anything to do with him, and wasn't going to tell Jack. Jack found out, however, and wanted to get to know him, to Tony's dismay. He was not happy when Jack started seeing more of Eddie, and still refused to see him for a while, but eventually he decided it was time he heard Eddie's side of the story, and when he did he decided to accept his father. But that soon ended when Jack was brought into A&E - Tony discovered he had been injured whilst taking part in a robbery for Eddie. When Jack, in trouble with the police, decided to leave the country with Eddie, Tony was less than impressed.
Tony's relationship with Ben had its ups and downs - Ben agreed to move in with Tony but soon afterwards Tony discovered Ben had been seeing an ex-boyfriend. The two had a fight on the quayside which resulted in Tony falling and being seriously injured, leaving him in need of a kidney transplant - or dialysis for the rest of his life. Jack came back to Holby but wasn't a match; however, he contacted Eddie who was, and eventually Tony was persuaded to accept Eddie's kidney.