HARRY HARPER
(Simon MacCorkindale)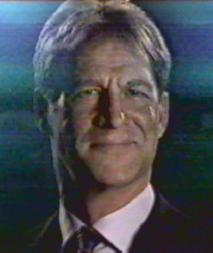 Harry joined Holby A&E as locum consultant following Max's departure. He turned up on his first day with two children in tow, after his childminder had walked out on his QC wife and him that morning. From the start he said he would rather be on the front line than in his office doing paperwork. At the end of his first shift, he invited everyone out to dinner so he could get to know them. Harry was given the permanent consultant's position at the end of the series.
At the beginning of series 17, Harry was taking his five children out to the fair. He was arguing with his eldest daughter, who wanted to travel round the world with her boyfriend rather than do her A-levels, when a skydiver had an accident. Harry insisted on the air ambulance being called out, which then crashed. Despite the efforts of Harry and the team, the pilot and two paramedics died - and so did the skydiver. He was comforted by his eldest daughter, who had changed her mind about her boyfriend. But his children were still complaining that Harry and their mother spent more time on their careers than on them.
Harry found herself attracted to nurse Anna Paul. One night they kissed, but Harry told her it was a mistake, and they tried to forget it.
When Lara returned to work after her spell in prison, she was on edge, and when she broke down Harry offered her a bed at his house. His wife Beth wasn't too happy about things, implying that if anything happened between Harry and Lara it wouldn't be the first time he'd cheated on her. Lara soon took the hint and left.
When consultant Selina Donovan arranged to do drug trials in the department, she and Harry were obviously attracted to each other. They arranged to go for a meal one evening after work. But while they were there, his wife Beth and daughter Tally were involved in a road accident - Tally, a learner driver, was driving under Beth's supervision. Beth died, and in his grief and guilt Harry shut out Tally, letting her think he blamed her.