JUDE KOCARNIK
(Lisa Coleman)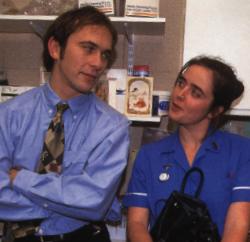 Jude first appeared in Casualty at the beginning of series 9 as staff nurse, and I think she moved from Queen's hospital when their A&E department closed down. She sometimes rebelled against authority, but she always cared about her patients. In her spare time, Jude acted as a Buddy, helping people with illnesses such as Aids.
Although they often argued, Jude was always good mates with Matt Hawley and it was she who persuaded him to give evidence at Ash's trial.
At the beginning of series 10, Jude argued with Ash about his post as Union representative, saying that as charge nurse, he was on the other side now. Ash resigned from the post and Jude was voted in as the next Union rep. Jude became friendly with Dr. Daniel Perryman, and provided a shoulder to cry on when he made his frequent mistakes at work, but as far as I can tell it went no further than friendship, although Matt thought it did and was jealous.
In series 11, after Mike Barratt's leaving do, Jude and Matt, completely legless, spent the night together. Jude later found out that she was pregnant. She eventually told Matt, and decided that they shouldn't try to make things work just for the baby. She had an abortion, and Matt was supportive of her, but afterwards he was distant from her. Jude was upset when Matt left to live in Crete, but they promised to keep in touch with each other.
In the last episode of series 11, Jude was stabbed and her colleagues had to try to save her life. As soon as Matt found out, he caught the next flight home and came to her bedside. Jude opened her eyes when he told her he loved her. At the beginning of series 12, we found out that Jude and Matt, now living in Crete, had just got married.