KATE WILSON
(Sorcha Cusack)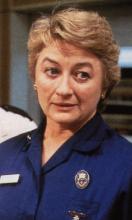 Kate started work at Holby A&E before the beginning of series 9. She moved after the closure of the A&E department at Queen's hospital, where she had been sister, to take the demotion to staff nurse, because she needed the money for her family.
During series 10 her husband Trevor, a retired policeman, got a job at the hospital as head of security. Although working together sometimes put a strain on their relationship, it was clear that they still loved each other. Chasing a runaway patient just before they were about to set off for Ash and Laura's wedding, Trevor fell down some stairs onto his head, and was in ITU when the series ended.
By the beginning of series 11, Kate had been promoted to sister after Ash's departure, but Trevor was in a vegetative state and doctors held little hope that he would recover. Kate did not want to give up on him, but when he contracted a virus, her sons and daughter persuaded her that it would be better not to treat him, and Trevor was allowed to die.
Kate seemed to have recovered from her loss by the end of the series, but series 12 saw her having more problems. She started shoplifting, taking clothes and make-up, some of which she gave away to her colleagues. She was caught, and resigned from her job shortly afterwards.