Series 13 Episode 21:

TEAM WORK

Written by Patrick Wilde

Gary Milton, the CEO asks Max about his MI screening paper. Max tells him it's low on his list of priorities. He starts complaining about the lack of beds. Gary tells him not to air inter-departmental problems in public. He tells Max that they are going to close down either Holby or St. Thomas' A&E and make one major department - St. Thomas' is favourite to get the department. He tells him to make the department run as smoothly as possible, to increase their chances. He says the MI paper would also increase their chances. Gary also tells Max that the Rafferties have rejected the trust's offer and the case might go to court. Max tells this to Sean. He asks George is she will help with his research, and she agrees.
Max tells Duffy about the merger but tells her not to tell anyone else as he doesn't want them jumping ship. He asks, "Where's Charlie when you need him?" - that's what I've wanted to know all series - he seems to have missed more episodes than he's appeared in!
Most of the department knows that Eve has married Marius. Adam mentions it to her, not knowing it was a secret. He says it's no big deal if she loves him; she says it isn't like that. She says, "He just shines."
It's the day of a big football match for Holby's non-league team, Wyvern Town (the Tigers). Karl Lawrence, one of the star players, is feeling rough after a night clubbing with another team member, Barry. The manager, tells Barry that the manager of a big Spanish club is here to look at Karl. He blackmails Barry into giving Karl some of the drugs he takes. Barry offers the drugs to Karl, who refuses them, so Barry puts them in his drink.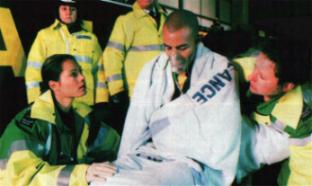 Karl is injured in the first half, but the manager tells him about the Spanish club manager and persuades him to carry on playing. Karl takes a penalty and scores, but then collapses with a heart attack.
He is taken to A&E; they treat him in resusc and he is than taken up to the Coronary Care Unit. The staff are puzzled as to why there is no improvement; Barry then tells them what Karl has taken. We are later told that he will be OK.
Duncan Galloway has come to see the match. He is looking for his son Martin, but goes in without him, thinking he'll turn up later. Another guy takes Martin's seat, saying he bought the ticket from him. Duncan leaves the match and goes home. Martin is there. Duncan gets mad at him for selling the tickets. The next thing we see, Penny and another paramedic have arrived; Martin is badly beaten up. Duncan claims he was beaten up outside the football ground and he took him home. Martin is taken to A&E; Penny, Duffy and Max suspect that Duncan beat him up. The blood tests indicate alcohol abuse. Duncan tells Max that this is the first time he's hit back; Martin gets violent when he's drunk. He says that Martin's mum died three years ago. It's discovered that Martin is missing; he is found in the canteen. They try to get to him but he turns violent. Duncan eventually gets to him and says sorry; he says he got out of control just like Martin does since his mum died. He tells him that he misses Martin's mum too; Martin asks why he's never cried. He is taken back to A&E and they talk; Duncan says they can face their problem together.
Pat Garratt arrives in A&E with a guy they've arrested at the match. He and Chloe talk; he says that at the riot he acted the way he did because he was scared. He asks her if he can see her tonight; she agrees. Adam and his mother are told that his father needs a kidney transplant or dialysis for the rest of his life. His mother volunteers herself and Adam for screening; Adam has to agree. He talks to Sam, who suggests he tells the consultant that he is HIV positive. Adam tells the consultant he is gay, thinking that that will be enough, but she says it will still be OK. He tells her that he is HIV positive. She tells him he has to tell his parents. Sam suggests that he tells them the transfusion lie but Adam is unsure whether to tell them anything. He eventually decides to tell them. He tells them he got the virus from the man he loved. He leaves, crying. Sam asks him how they took it; he says he doesn't know. Sam invites him for a drink but Adam decides to go back to his family.

Episode first broadcast Saturday 23rd January 1999