Series 13 Episode 24:

FACE VALUE

(250th episode)

Written by Graham Mitchell

Max complains to George that her research is going too slowly. He leaves her to cope alone while he goes to meet Gary Milton about Sean's case.
Pat Garratt, who has brought in someone under arrest, asks Tina if she and Sean want to go for a drink with Chloe and himself. Tina phones Sean to ask him but he says he can't be bothered. Duffy overhears; she tells Tina she doesn't want to see her get hurt. Tina says she can look after herself.
Marius tells Sunny that his job as cleaner is just temporary, like Sunny's job as a porter is. Sunny says that Eve is more easy-going since he came. He talks about Romania and tells Sunny he doesn't have to be a porter all his life if he doesn't want to be. Sunny later tells Marius that a paramedic is a fabulous job and says that Marius is the only one who doesn't rubbish his ideas. He asks how long he'll be staying around; Marius says it's not a permanent arrangement.
Arthur Lyle comes in complaining of chest pains. He used to be a nurse. George suggests that they try out the MI screening on his blood; as soon as he hears this Mr. Lyle says it can't be that and says that his pains have gone. An ECG looks normal and George wants to send him home, but Sam suggests that he is still having chest pains but doesn't want to face up to the possibility of a heart attack. George decides to persuade Mr. Lyle to stay. He later has a heart attack in his cubicle; they start his heart again and take him to resusc.
Josh and Penny are called out to a derelict building in which David and Becky were trapped when it started to fall in as they spent the night there. The paramedics go in before the fire service arrive. David is not badly injured and can walk; Becky is more seriously injured and they want to get a spinal board before they move her. Penny goes to get it, taking David with her although he does not want to leave Becky. Penny goes back in; David is taken to A&E in another ambulance. He is unwilling to give his surname and when he sees the police there he tries to leave but collapses on the way. He has pethadine on him but he says its just for pain relief, then tells them he has sickle-cell anaemia. Pat Garrett recognises his face, finds his name on the board and checks it out. He says that David is wanted for abducting Becky, who is only 15.
Josh and Penny are carrying Becky out of the building. The floor collapses beneath them and the rest of the building collapses on top of them. The fire chief don't think that anyone could have survived but they start to clear the rubble bit by bit, as they can't have too many people there in case it causes the building to collapse further. Ambulance control let Holby A&E know; they cannot confirm which paramedics are trapped but Duffy and George are sure it is Josh and Penny. George phones Max on his mobile to let him know; he is near the site and heads for it. He tells George to keep it to herself.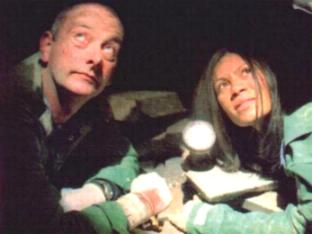 Josh and Penny are in a small enclosed space beneath the rubble. Josh's wrist is injured but they are both more or less OK. They look for Becky and find her hanging upside down from the spinal board which is lodged in place. They free her from it. Whilst they are waiting for someone to get to them, Becky asks them about their private lives. She asks Josh if he has a girlfriend; he says sort of - he's talking about Yvonne. She tells them that she and David haven't slept together; he's more like a friend. They ran away from home together; they went to London then returned to Holby. Water starts to drip down on them; although it is not enough to fill the space up they are worried about the extra weight that it may add to the rubble above them. The fire service eventually clear enough rubble to make a small hole through to them, but say it will be a long time before they can clear it enough to get them out. As they are clearing it further some of the rubble collapses on top of the three, injuring Becky's foot badly. She has an arterial bleed and a fracture-dislocation. Max tells Josh how to pull the ankle back into place, which will stop the bleeding; he has to do it without anaesthetic. Eventually the fire crew get them out and they are brought back to A&E.
In A&E, David has told Duffy that he hasn't slept with Becky; she wanted to run away from home. Becky's mother and stepfather come in to A&E. Her stepfather sees David and says he'll make sure he's put away; David says he didn't force her to do anything she didn't want to, unlike him. He accuses her stepfather of abusing her. Pat Garratt, who has been keeping an eye on David, hands him over to another PC as he's finished his shift. The other policeman starts chatting up a woman and David makes his escape while he isn't looking. Sunny, who believes what he's said, lets him go.
Max tries to persuade Josh and Penny to talk to the press and say that the team worked smoothly in an impossible situation, but they are unwilling so Max talks to them himself.
Josh is sitting in the ambulance when he sees David run past. He goes up to him. He tells David he needs medical attention; David just asks him to tell Becky that he'll come back for her.

Episode first broadcast Saturday 13th February 1999