Series 14 Episode 8:

SEEING THE LIGHT

Written by Katharine Way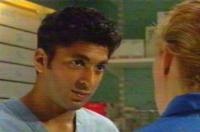 It's Adam's first day as staff nurse. Duffy tells him she's not as prejudiced as he might think but that it's her job to make sure he's careful for everybody's sake. She tells him to always ask if he's stuck and they laugh together. Adam's first patient is Phil Savage, who has damaged his eye at work. He is told he shouldn't work for a while and has a patch on his eye, but his boss Ian wants him back at work as they need to finish a job that night. Andrew Kavanah is also with them. Holly recognises him and shows him the posters that Maggie has been putting up. She asks him to contact her but he leaves as soon as she mentions it. Holly contacts Maggie Kavanah, who comes in expecting Drew to be still there; when Holly tells her he's gone she gets mad at Holly, saying she shouldn't have interfered. Holly thought she'd have been glad to know he was still safe.
Jade Johnson brings her sister Clare into A&E after she took an overdose.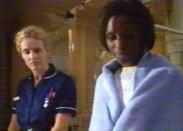 In resusc, Clare stops breathing for a while before being brought back to life by the team. Jade says that they had had an argument; Clare had threatened to kill herself and Jade had told her to go ahead, not believing she would actually try. Later Clare tells Eve she could see herself from above when she had stopped breathing, but knew it was not the right time for her to die. She asks to go back to resusc to see where it happened. Both sisters want to see each other. Eve is affected by them.
A group of medical students come into A&E, in Halloween costume and drunk.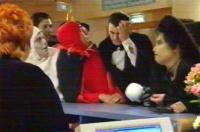 One of them, Simon, has fallen over and cut his head. As Adam is treating him he has a fit. Adam calls Sean in; they suspect epilepsy. Simon doesn't want to believe there's anything wrong with him and runs out of the hospital. Adam finds him; Simon says he doesn't want to be dependent on drugs for the rest of his life, and that if he has epilepsy it would ruin his chances of becoming a doctor. Adam tells him not to assume that. Simon says he sounds like understands.
Phil Savage is brought into resusc by ambulance after falling onto boiling tar. Drew blames Ian, as Phil was half-blind but Ian still made him work.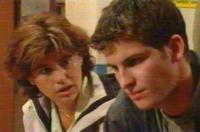 The team manage to stabilise him and he is taken to ITU. Drew has burns to his hands and whilst he is being treated Holly calls Maggie back in. Drew is angry when he sees Maggie, telling Holly she shouldn't have interfered, and when Maggie realises Drew doesn't want to see her she turns on Holly too. Later Maggie finds Drew and tells him she knows things can't go back to the way they were but she just wanted to know he was safe. She asks him to keep in touch and it looks like Drew will.
Tina has a go at Chloe, saying she hasn't been pulling her weight recently.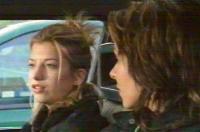 Duffy hears and tells Tina to show Chloe more sympathy. She tells her that Chloe is going for an abortion after the shift. Tina later apologises to Chloe but they aren't friendly. At the end of the shift Tina offers Chloe a lift to the hospital. She says she's fed up with being angry - and she also misses the gossip. Tina offers to miss her party and go into the clinic with Chloe. Chloe accepts.
At the end of the shift Duffy tells Adam he did well, and might even be an asset to the team.
Sean lets it slip to Charlie that Eve had been thinking of resigning. Charlie is annoyed that Sean hadn't said anything to him. Eve later freezes in resusc and walks out. She empties her locker and leaves the department. Charlie and Duffy find the empty locker and Charlie guesses Eve has gone to the Mission. He goes to look for her and finds her there. He is upset that she just left in the middle of a shift without a word and Eve apologises. Charlie says they could have been more supportive after Gerry's death, saying she could have talked to him. He keeps trying to persuade her not to leave, but Eve won't be persuaded. Charlie says she's one of the best nurses; Eve says she doesn't think so. She says she knows what she did was wrong and she doesn't have a chance to change things. Charlie asks what she'll do; she says she'll start by working to keep Gerry's Mission open. Charlie asks if she'll go back to say goodbye; Eve says maybe, when she feels she can. Charlie gives her a goodbye hug.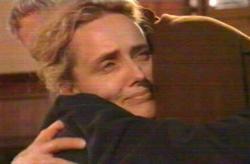 Episode first broadcast Saturday 30th October 1999

Pictures provided by Chris Leader