Series 15 Episode 31:

HEROES AND VILLAINS

Written by Carolyn Sally Jones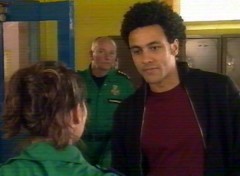 After meeting her brother for the first time, Penny is overwhelmed with joy. Luke has travelled to see her at work and they quickly get to know one another. She learns more about her father from Luke, including how she's obviously got the same stubborn streak. Excited but apprehensive about meeting her father, Penny is then devastated when she receives a letter from him, telling her he doesn't want any contact.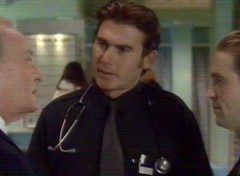 Meanwhile, Dan entertains a retired consultant with the hope he'll donate a generous sum of money to the department. After getting off on the wrong foot, problems are made worse when Patrick and the consultant clash over a patient diagnosis. Eventually Patrick realises that he needs the consultant's skills and they successfully work on the patient together.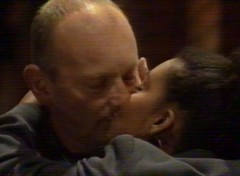 Meanwhile, Colette is horrified to learn that a suicidal patient endangered Josh's life. Gripped with emotion she has a go at the patient and tells him she could have lost someone special. Josh and Colette get closer!
Not so good for Anna who's the victim of Barney and Jack's initiation prank. They send her on a wild goose chase and poor Anna is left to walk back to A&E in a flying squad uniform. She's saved by a policeman who gives her a lift back. This could be a start of a beautiful relationship!
On the subject of relationships, it's Duffy's last day at work before she goes on maternity leave. It appears that Andrew and Duffy have worked out their differences - at least for now.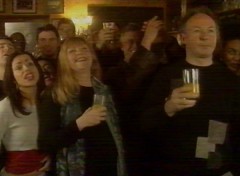 Episode first broadcast Saturday 31st March 2001

Additional Cast
| | |
| --- | --- |
| Edward Gutheridge | Frank Thornton |
| Ian Wilson | Jonathan Magnati |
| Josie Wilson | Andrina Carroll |
| Ben Lewis | &nbsp&nbsp&nbsp&nbsp&nbsp&nbsp&nbsp&nbsp Lewis Reece |
| Tamara Harvey | Suzy Bloom |
| Dominic Hitchie | Yao Chin |
| Polly Tomlinson | Donna Berlin |
| Vicar | Philip Keiman |
| Luke Hutchens | Christopher Colquhoun |
| Dr Hammond | Burt Caesar |
| PC Williams | Craig Adams |
| Ross | Shane Leonidas |

Taken from the BBC website at http://www.bbc.co.uk/casualty
Pictures provided by Chris Leader