Series 17 Episode 16:
LIVING FOR THE MOMENT
Written by Robert Scott Fraser
The wife of a policeman is brought in after a reaction to the ecstasy she took to relieve the symptoms of Parkinson's disease; though Lara wants to report the husband, Harry decides to let it go. Roxy gets involved with a patient who has an inoperable brain tumour. Colette challenges an elusive Simon following their tryst at the staff Christmas party, to find he thinks it was a mistake and they should forget it. But she tells Comfort she thinks her marriage to Josh is over.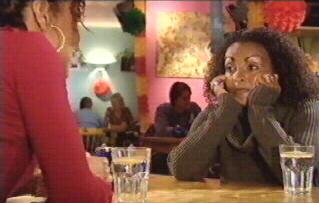 Episode first broadcast Saturday 28th December 2002

Additional Cast
| | | |
| --- | --- | --- |
| Eddie Vincent | | Philip Martin Brown |
| John Adsett | | Andrew Bicknall |
| Diane Adsett | | Fiona Welburn |
| Jane Winter | | N'Deaye Baa-Clements |
| Andy Wells | | Seb Castang |
| Glen | | Jason Nicoli |
| Pete | | Grahame Fox |
| Karen Howe | | Nicola King |
| Ray Howe | | David Delve |
| Sarah Howe | | Chelsea Whatley |
| PC McCormack | | Nicholas Tizzard |
| Ms Marston | | Lucinda Curtis |
| Billy | | Jeremt David |