PENNY HUTCHENS
(Donna Alexander)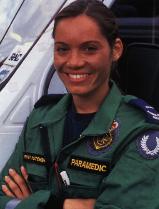 Penny first appeared in Casualty in series 11. We first saw her working with Liz Harker whilst Josh Griffiths was in the helicopter. Penny appeared occasionally in later episodes of the series, working with Liz Harker when Josh was off work following the death of his family.
Penny appeared regularly in series 12 of Casualty following Liz's departure, when she became Josh's new partner. At first she was fed up because Josh kept talking about what a great team he and Liz had made, but they started to work well together. When Josh organised a charity football match for Liam's childrens' home, Penny thought it was a bad idea, although she didn't say why. She was often in a bad mood with Josh after that, but it wasn't until Liam asked Josh to adopt him that she revealed the reason: she had been in a childrens' home after her mum, bringing her up alone, had a car accident and was brain damaged. She and Josh got on better after that.
In series 13 we found out a bit more about Penny's past life; her foster mother turned up in A&E and told Josh about Penny's ex-boyfriend Pete: they lived together for two years before he left her and went to France. Penny was supportive of Josh when he had gambling problems.
During series 15, Penny started taking first-aid courses. One of her pupils was teenager Chantelle, who wanted to become a paramedic but didn't think she'd be able to make it, because she wouldn't get the support she needed from her foster parents. Penny tried to convince her that she'd manage it. Chantelle didn't know her father and decided to try to get in touch with him; she eventually succeeded and the reunion was successful. Watching them made Penny think of her own father and she determined to find him. After a few letters she got a visit from a stranger, who introduced himself as Luke, her half-brother, but she learned that her father didn't want to meet her. She wasn't going to give up, however, and went to see him. He wasn't pleased to see her, but eventually gave in and they hugged. Penny decided to give up her job to spend time getting to know her father, and left at the end of series 15.