RICHARD MCCAIG
(Gray O'Brien)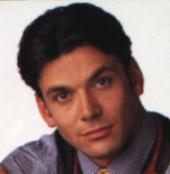 Richard first appeared in Casualty at the beginning of series 11 as an SHO, and we soon discovered that he suffered from MS. He started a relationship with Gloria Hammond, and they went on holiday together.
Gloria was the only person in series 11 apart from Jack Hathaway to know about Richard's MS, but by the end of the series their relationship was falling apart, and Gloria left between series 11 and 12.
In series 12, Richard spent a lot of time arguing with fellow SHO George Woodman. He liked her, but she did not return his feelings and became involved with Mark Grace. Richard's MS caused him to take time off work, and he confided in George about his illness after that. She knew he fancied her, but they decided to remain just good friends. Richard decided to leave Holby A&E at the end of the series to find a job nearer home in Scotland, saying that there was nothing left for him in Holby.