ANDREW BOWER
(William Gaminara/Philip Bretherton)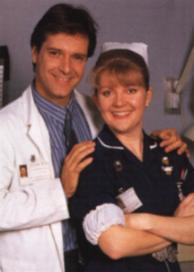 Andrew Bower was the Registrar who arrived at the start of Series 4. He charmed the newly promoted Sister Duffin and made her pregnant. Seemingly only concerned with his own career Andrew got a job in London and automatically assumed that Duffy would leave Holby and marry him for the baby's sake. Duffy chose to bring up the baby herself and turned her back on Andrew. Peter was born and Andrew didn't have any contact with the child until he returned as locum consultant after Julian's departure in Series 7. More mature and considerate than he had been before, Andrew and Duffy soon fell in love again. Andrew moved on from Holby City Hospital with the arrival of new consultant Mike Barratt, but he and Duffy stayed together, and were married at the end of series 7. By series 8 they were planning to have another child, and once she was pregnant, Duffy gave up her job to be with her family.
When Duffy returned for Charlie and Baz's wedding in series 12 she revealed that the marriage was on the rocks after Andrew had had a one-night stand with another woman.
They stayed together despite Duffy discovering that Andrew's one-night stand had turned into a full affair. In series 15, Andrew returned to Holby A&E with a new face, as a locum during the refurbishment of Broadway General A&E. Duffy wasn't too happy about this at first, but got used to him being there. Not long after he started, however, she dropped a bomshell: she was pregnant again. Andrew was angry, thinking their days with babies were over, and refused to discuss things with Duffy. It became clear that he didn't want the baby, but Duffy was determined to have it anyway. Andrew's attitude changed when Duffy had a miscarriage scare, however, but relations between him and Duffy remained strained. Later Andrew was offered a permanent consultant's post at Holby, but turned it down. When Duffy found out, he told her it was because he didn't want to invade her territory, and valued their marriage too much to risk messing it up at work. Duffy was touched by this, and after that their relationship took a turn for the better. Andrew was looking forward to the birth of their new baby, but would never see that day. In the last episode of the series he was pushed down some steps by maniac Tom Harvey. He was badly injured, and despite the best efforts of the A&E staff, he died.

Parts written by Christopher Watson