FINLAY NEWTON
(Kwame Kwei Armah)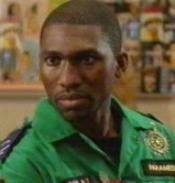 Finlay started working as a paramedic in Holby in series 14, following the death of paramedic Mike. His first day was the day of the documentary. Fin was acting the hero all day, but started to panic when he needed to put a needle in a man's chest to let him breathe. Josh encouraged him and it worked. In series 15 Fin started to appear more regularly, helping Mel overcome her fear of dogs, and supporting Penny as she went to find her father.
In series 16, Fin started growing close to married paramedic Comfort Jones. They started an affair, and Comfort decided to leave her husband Rob for Fin. But before she moved in with him, she found out that Fin had a daughter, Emma. Emma lived with her mother, and she and Fin were no longer an item, but still good friends. Comfort, who couldn't believe Fin could keep something like that from her, broke up with him. At the end of the series, Fin and Nikki, trying to help a stab victim, were caught up when the stabber returned. Fin's hands were badly cut as he wrestled the knife from the man, but Nikki was already seriously injured. Back at A&E, Comfort treated Fin's hands, and gave him a hug, telling him it didn't mean anything. Fin had to see a hand specialist, and realised he might not work again. Comfort was there for him, and they went together to see Nikki, lying unconscious in resusc.
By the beginning of series 17, Fin was back at work, but he and Comfort were not an item. When Comfort's divorce papers came through, Fin was upset to be named on them. However, he did his best to cheer up Comfort as she tried to accept the divorce. At Christmas they became an item again. But when Fin's daughter Emma became seriously ill, Comfort felt he was pushing her out. However, Emma recovered and so did their relationship.