NIKKI MARSHALL
(Kelly Harrison)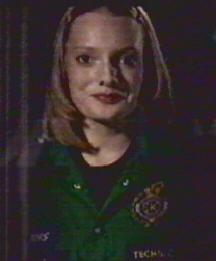 Nikki started work as Ambulance Technician at the beginning of series 16. On her first day, out in the ambulance with Josh and Fin, she was thrown in at the deep end when the ambulance crashed and she was the only one able to get out to help. She didn't endear herself to her fellow paramedics by telling the police she thought Josh was driving too fast. After this incident, Nikki was unsure whether she wanted to be a paramedic after all, but Comfort helped her to make the decision to stick with it.
Receptionist Jack Vincent flirted with Nikki from her first day. Eventually she gave in and agreed to go out with him. After they spent the night together, Nikki confessed to Anna that it was her first time. Jack wasn't sure he wanted the serious relationship Nikki was after, but decided she was worth it. A few weeks later Nikki decided to move out of her parents' home, so she and Jack could have their own space, and was pleased when Anna offered her Chloe's old room.
Things were going well for Nikki and Jack until she noticed a lump on Jack's testicle. Helped by Jack's brother Tony, Nikki managed to persuade Jack to get it seen to. The testacle needed to be removed, and Nikki wanted to help Jack through it, but Jack told her it was over between them. Nikki was distraught at first, but started seeing someone else. When Jack realised he had made a mistake and asked her out again, however, she dumped her new bloke and agreed. At the end of the series, Nikki and Fin, trying to help a stab victim, were caught up when the stabber returned. Nikki was stabbed in the stomach and rapidly losing blood, but still tried to help the other victim as they lay waiting for Fin, who had managed to escape, to fetch help. Eventually she was taken to A&E. As she lay unconscious in resusc, Jack talked to her, then suddenly rushed out, to return with a radio. The DJ announced a request for Nikki from Jack, saying that Jack had never had the courage to say he loves her. Jack asked Nikki to marry him, begging her to wake up and give him an answer...
Nikki had recovered by the beginning of series 17. She and Jack were still together but he had not told her he had proposed to her, and Nikki was angry when she found out that he had. On her first day back at work, Nikki got a call out to the estate where she had been stabbed, and insisted on taking the call. When she arrived, however, she refused to go in until the police arrived, resulting in a long delay. The patient died, and everyone thought that he could have been saved if they had gone in sooner. She was upset when Comfort told her she didn't think she was ready to be back at work, and complained to boss Jeff McGuire that they needed stab-proof vests. McGuire told her they couldn't afford them, and that she had let the Ambulance Service down. Later, however, he told her she had been nominated for a bravery award and was a hero. Nikki was not impressed. She went to receive her reward wearing the stab vest she had bought with her own money, and made this clear to a journalist who interviewed her afterwards, to the dismay of McGuire. A national newspaper picked up on the story, and Nikki was delighted when they later asked to interview her.
Soon afterwards, Jack was hanging around the ambulance when Nikki and Comfort got a call to a fight on a housing estate, and insisted on joining them. His actions only provoked the situation, leaving Nikki incredibly angry with him. When she arrived home after her shift to find Jack waiting for her, Nikki told him she'd never forgive him for what he'd done, and ordered him to leave. But it wasn't long before they were back together.
After her story got to the national press, Nikki was asked to do a photo shoot, but Jack wasn't impressed when photos of her in her stab vest and little else were published in a magazine. When they bumped into the photographer Jay at one of Jack's father's clubs, Nikki spent more time with Jay than with Jack, but told him she was perfectly happy with Jack. When Jack, growing tired, interrupted, he and Jay started fighting, and Jack's dad got Jay thrown out. Nikki followed, however, and he saw her into a taxi, kissing her on the cheek. Nikki was angry with Jack but was out of her mind with worry when he was arrested the next day. She soon bumped into Jay, however - he was leaving the hospital, injured. He told her Jack had beaten him up, and then got his father to threaten Jay into dropping the charges. At first Nikki wanted nothing more to do with Jack, but it wasn't long before they were back together.
Jack was brought into A&E himself himself after a robbery went wrong. When a man injured in the robbery recognised Jack, Eddie said they had to run for it. Jack left a note for Nikki, who went running after him before he left. Jack asked her to go with him, but Nikki said she couldn't, and had to watch him go. A few weeks later, when Jack's brother Tony was seriously ill and needing a kidney, Nikki contacted Jack, who came back to Holby and was arrested, though the charges were dropped when the injured man failed to identify Jack. Jack wasn't a match for Tony but Eddie was, and Nikki comforted Jack as they both went under the knife.