SEAN MADDOX
(Gerald Kyd)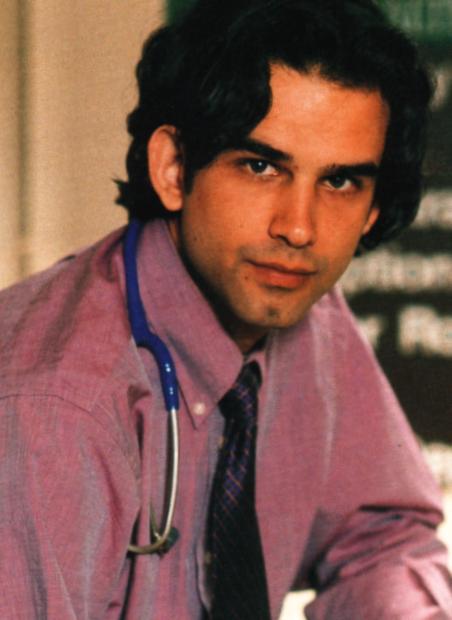 Sean joined Holby A&E before the beginning of series 13, as SHO. On one stressful shift he discharged patient Eugene Rafferty despite Eve's advice to do otherwise; Eugene and his friends were drunk and Sean wanted to get rid of them. Eugene later collapsed and died. An inquest into his death gave the verdict of accidental death, but Eugene's parents were not satisfied and decided to sue the trust.
Meanwhile, Sean started a relationship with Tina Seabrook. He became worried that she was getting too serious about him and started to cool things off. Whilst she was on holiday he spent the night with Tina's friend and flatmate Chloe Hill, but they both decided it was a mistake and they should forget it. Although she didn't know, Tina called things off as he kept ignorng her.
The trust managed to come to an agreement with Eugene's parents about a settlement, but Mr. Rafferty was not happy. He came to see Sean and hit him; Sean did not defend himself and tried to stop people calling the police. As Mr. Rafferty was being led away Sean spoke to him, apologising. Max had already spoken to him and Mr. Rafferty shook Sean's hand. The police dropped the charges. Sean and Tina made up. At the end of the series he asked Tina to move in with him; she agreed. But then Chloe confessed to her that she was pregnant by Sean. At the beginning of series 14 Tina wouldn't talk to Sean; Sean yelled at Chloe for telling Tina about their one night stand, and she told him she was pregnant. Sean tried to talk to Tina; she said that she had been falling in love with him, but now all she felt when she looked at him was pain. Sean talked to Chloe, offering her money for an abortion or money to support the child, but said he couldn't offer anything more or he'd be living a lie.
Sean later made his peace with Tina, who agreed that they could be friends again, but although Sean wanted to be more than just friends, Tina didn't. Sean asked Chloe if they could talk about the baby; she told him that she'd already had an abortion. Sean was upset that she hadn't told him first, but Chloe reminded them that he had had his chance to discuss it but didn't want to know.
Sean asked Max to put in a good word for him with Tina; Max did so, but only half-heartedly. Sean asked Tina to spend Christmas with him in a cottage in Wales, but she turned him down, saying they were over after what happened with Chloe.
Sean had been working hard for his exams; when he got the results he asked Max to open it for him. Max told him he'd failed but tried to show him it wasn't the end of the world and encourage him try again. Sean thanked him for being so supportive. But when he walked in on Max and Tina kissing in the staffroom, he went beserk. He started fighting with Max, then went out into the car park and smashed the window of Max's new car.
Trying to get over his exam results and Max and Tina, Sean went to find his Tim, a friend and fellow doctor, to get drunk together. But he found Tim unconscious, with a needle and some drug capsules around. He tried to hide the evidence of what Tim had taken, before getting help. Eventually Sean showed Max the capsules, saying he hadn't wanted Tim to get into trouble for stealing the drugs. Later Sean apologised to Max for his behaviour the night before, and offered to pay for the damage. Max turned down his money, insulting Sean. He told Sean that if they couldn't manage to work together then one of them would have to leave. Sean told Tina what Max had said, asking for a reason to stay; Tina said she didn't want him to go. They hugged, and talked things over, deciding to try again. Tina wanted to tell Max before they went any further. She was about to tell him when his son Frank was brought into A&E. Frank died, and both Sean and Tina agreed that they couldn't tell him yet. But as time went on, Sean started to think that Tina would never tell Max. He decided to leave Holby, to go to Australia to work there. He left without telling Tina; she arrived at the train station just as his train was about to leave. Tina begged him to get off the train. Sean asked her to come with him to Australia. Tina asked Sean to marry him. They kissed, but Sean left on his train. He went to Australia, where he befriended Katie, a GP there. Tina came to Australia after him, and ended up stranded in the bush. Sean found her. Tina had brought some rings with her; Sean found them, and asked her to marry him. Tina said yes, and they started a new life together in Australia.