JACK VINCENT
(Will Mellor)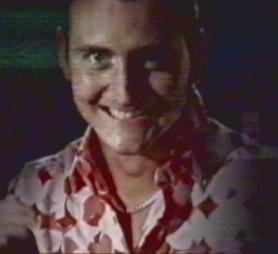 Jack started work as receptionist in series 15 of Casualty, taking over after Amy's departure. Despite acting the hard man, on his first day he was given a lift to work by his gran, kept a soft toy she had given him on his computer, and went to have tea with her after his first shift. Also on his first day, he was the victim of a practical joke by Barney and Anna, but soon took his revenge, and pranks between the three of them continued for weeks.
At the end of the series, Barney told Jack about a girl who was dying of leukaemia and had asked him to kiss her, as she had never kissed anyone. Barney was unable to do so because it was unethical, but Jack went to see her. He told her that his little sister had leukemia; her ambition was to ride in a hot air balloon and his family saved up but his sister died a day before the trip. Jack kissed the girl, not saying a word to anyone.
In series 16, Jack started flirting with new ambulance technician Nikki Marshall. Eventually she gave in and agreed to go out with him. After spending the night together, Jack wasn't sure he wanted the serious relationship Nikki was after, but decided she was worth it. Things were going well until Nikki noticed a lump on Jack's testicle. Jack tried to ignore it, but persuaded by Nikki and his friends, eventually went to Max, who referred him to neurology. The consultant told Jack that the testicle needed to be removed, but Jack, terrified, refused to be treated and walked out. When his brother Tony found out, he told Jack he was being selfish. He explained that their mother, who died when Jack was small, had died of cancer, not in an accident as Jack had been told - they had wanted to protect him. He convinced Jack to admit he had cancer, and to phone the consultant to say he'd changed his mind and would have the operation. Nikki wanted to help him through it, but Jack told her it was over between them, later admitting to Tony that he didn't want Nikki lumbered with him. When he got back to work, realising he had made a mistake, he asked Nikki out again, and she eventually agreed. At the end of the series, Jack was distraught when Nikki was stabbed. As she lay unconscious in resusc, Jack talked to her, then suddenly rushed out, to return with a radio. The DJ announced a request for Nikki from Jack, saying that Jack had never had the courage to say he loves her. Jack asked Nikki to marry him, begging her to wake up and give him an answer...
By the beginning of series 17, Nikki had recovered, but Jack had not told her that he had proposed, saying he had only said it because he thought she was dying. Nikki was angry when she found out, and told him she wouldn't marry him if he was the last man on earth, but forgave him, and they carried on as they were. Later on, Jack was hanging around the ambulance when Nikki and Comfort got a call to a fight on a housing estate, and insisted on joining them. His actions only provoked the situation, leaving Nikki incredibly angry with him. When she arrived home after her shift to find Jack waiting for her, Nikki told him she'd never forgive him for what he'd done, and ordered him to leave. They were soon back together, however.
Jack got a shock when his father Eddie turned up in A&E one day, accompanying one of the bouncers who worked for him. Tony didn't want anything to do with him, but Jack wanted to get to know him, and they went for a drink together. He and Jack were soon getting on well, though Eddie didn't seem to think much of Nikki. One night at one of Eddie's clubs, Jack and Nikki bumped into photographer Jay, who had done a photo shoot of Nikki. Nikki spent more time with Jay than with Jack, but told him she was perfectly happy with Jack. When Jack, growing tired, interrupted, he and Jay started fighting, and Jack's dad got Jay thrown out. Nikki followed, however, and Jack watched as Jay saw her into a taxi, kissing her on the cheek. After the taxi left, Jack pounced on Jay, but did more damage than he intended, knocking him out. The next day the police arrived at Holby A&E to arrest him. But a few hours later he was told that Jay had dropped the charges, and he was allowed to go. Eddie was waiting for him outside, and told him Jay had just needed a little persuasion. But when Nikki found out what had happened, she wanted nothing more to do with Jack at first. But it wasn't long before they were an item once again.
Jack was brought into A&E himself himself after a robbery planned by his father went wrong. When a man injured in the robbery recognised Jack, Eddie said they had to run for it. Jack left a note for Nikki, who went running after him before he left. Jack asked her to go with him, but Nikki said she couldn't. Jack later phoned Nikki and told her he loved her, but that she shouldn't phone him again.
A few weeks later, however, Nikki contacted Jack to tell him that Tony was seriously ill and needing a kidney. Jack returned to Holby but found he wasn't a match for Tony. He was soon arrested, but the charges were dropped when the injured man failed to identify Jack. Jack contacted Eddie, who came and discovered he could donate a kidney to Tony. Nikki comforted Jack as Tony and Eddie went under the knife.